Power generators are a good source of electricity in power outages, but they are very loud even when running at a 25% load. Larger generators, with a capacity of 10,000 watts or more, can produce over 75 decibels of noise at 23 feet. In this article, you will find the Best quiet fuel generators available in the market that make the slightest noise and have excellent affordability. A quiet dual-fuel generator becomes essential so that you would disturb your neighbours and have peace of mind. Its dual nature will help you to operate on two sources: gasoline and propane. We have tested dozens of products with our electrical experts. Now, we are providing you with the six best quiet dual fuel generators under 12000 watts.
List of Top 6 Quiet Dual Fuel Generators
Best Generator Charts
| | | | |
| --- | --- | --- | --- |
| GENERATOR NAME | WATTAGE | POWER SOURCE | CHECK PRICE |
| DuroMax XP5500HX Dual Fuel Portable Generator | 5500-watt | Dual Fuel | CHECK PRICE |
| Champion 4500-Watt Dual Fuel Generator | 4500-watt | Gasoline or Propane | CHECK PRICE |
| Pulsar G12KBN Dual Fuel Generator | 12000-watt | Dual Fuel | CHECK PRICE |
| Champion 3800-Watt Dual Fuel Portable Generator | 3800-watt | Dual Fuel | CHECK PRICE |
| All Power America 12000-Watt Dual Fuel Generator | 12000-watt | Dual Fuel | CHECK PRICE |
| DuroMax XP9000iH 9000-Watt dual fuel Generator | 9000-watt | dual fuel | CHECK PRICE |
DuroMax XP5500HX Dual Fuel Portable Generator: Best Safety
When I unbox this generator, it has a quick start guide manual to assemble quickly. If I discuss the DuroMax dual fuel generator, Users rave about this for a good reason. Its power output is 5500 watts of continuous power, which is plenty enough to keep running your home during an emergency, and it still has many wattages left. The generator has many user-friendly features like seal alert technology which will automatically turn off if an unsafe level of carbon monoxide is detected. This means protecting your loved ones and enjoying easy operations with Duromax. The 210cc engine of the generator makes it perfect for camping RVs, tailgating, and powering other household appliances like refrigerators, freezers, or fans during emergencies. The generator features a robust all-metal frame, fully isolated motor mounts, and an oversized muffler to reduce noise levels. It also has a spark arrestor for additional safety. This results in a quiet and seamless operation of the generator. The only downside is its weight of 128 pounds, but with wheels and a handle kit, I could easily transport it over any terrain. Its construction is of copper windings so this generator would be a longer-term investment for you.
Pros:
Portable Design
Three years good warranty
Power Boost for RVs and big appliances
Cons:
Challenging to service and maintain
Expensive
Heavy
Champion 4500-Watt Dual Fuel Generator: Best Overall
Just a heads up, you will receive the generator in a large box that clearly states its contents, so be aware in case porch pirates plague your neighbourhood. Upon opening the box, I noticed a couple of accessories and the generator. These were a small combination wrench measuring 8 and 10 millimetres, an oil funnel, a bottle of 10W30 oil, and a spark plug wrench. The initial impression of the champion generator to me is good. Its external build quality is fantastic and matches that of Honda. It comes fully assembled, so you'll have a hassle-free setup. If I talk about the features of the Champion dual fuel generator, it has an electric start like in modern cars. It's run on gasoline or propane, giving a versatile fuel option in case of power outages. Unlike most generators, it is tranquil, running at a mere 53 DBA, the same amount of noise produced by a dishwasher. It makes it the best option for outdoor use. Its 224cc engine delivers 4500 starting watts and 3500 running watts of power. With half-loaded gasoline, you will enjoy power for 12 hours. Its inverter technology produces clean and stable power. So I confidently connect all my sensitive electronics when using this generator.
Pros:
Portable design and lightweight
Accessible to power up an RV or trailer
Clean and stable power output
Cons:
Its propane tank has a limited capacity
Pulsar G12KBN Dual Fuel Generator: Runner up
So many things make this Pulsar dual-fuel generator one of the best generators you buy right now. First, I will talk about the generator's design; it is impressive and very functional. It comes with a sturdy handle and wheels that make it easy to move on different surfaces. The generator is easy to use, with a simple control panel with a digital hour meter, a low oil shutdown feature, and multiple outlets. A beginner would also find it easy to operate. In terms of power output, this Pulsar generator can produce up to 12,000 watts of peak power and 9,500 watts of continuous power. This voltage can power multiple household appliances and larger items such as air conditioners or well pumps. It has a heavy-duty frame and steel fuel tank that withstand rough handling and heavy use. There is an 8-gallon tank which implies excellent run time. With this model, you will enjoy 12 hours of run time, making it among the best options I have reviewed.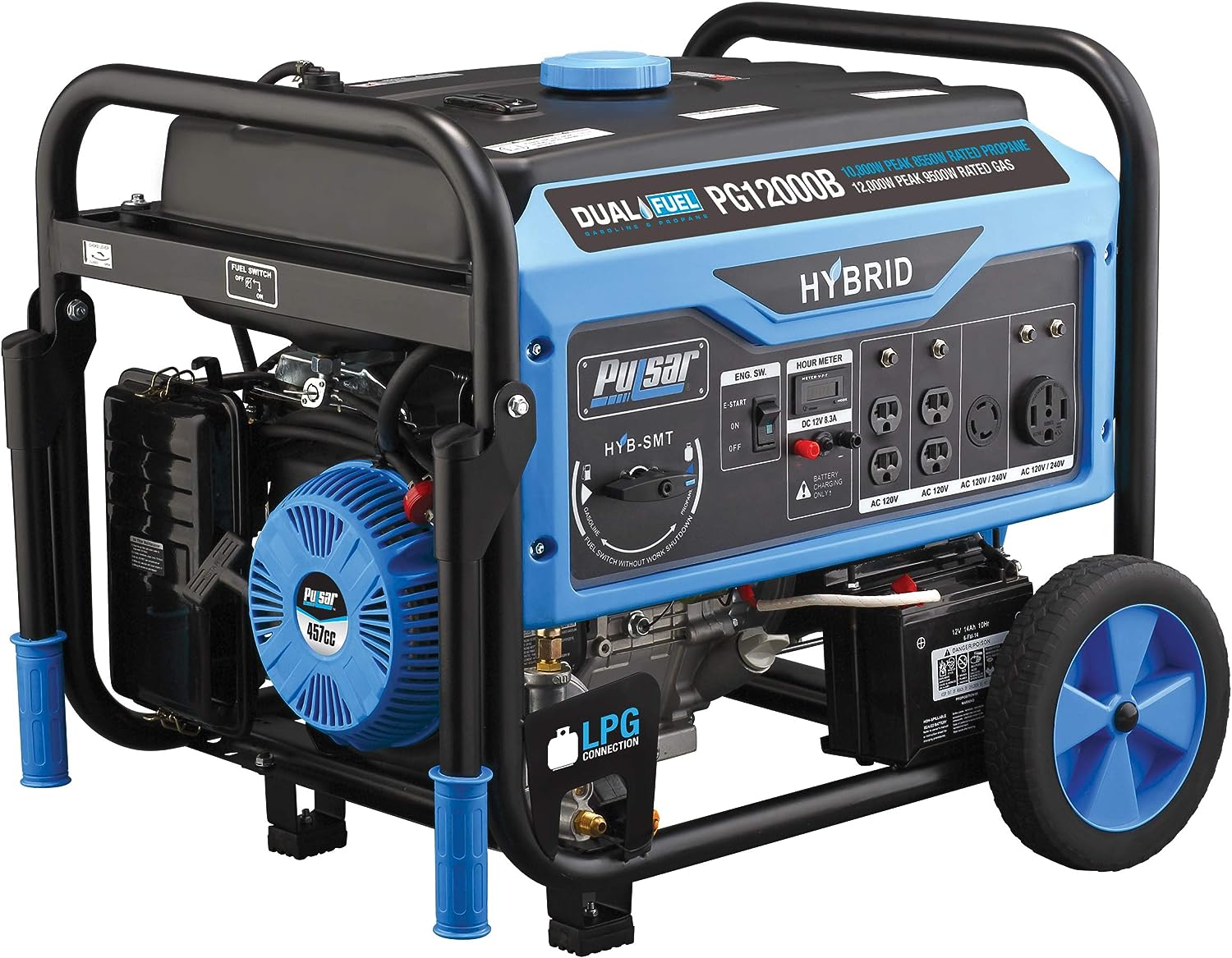 Pros:
Easy to use
High power output
Affordable
Champion 3800-Watt Dual Fuel Portable Generator: Runner up
The power output may not compete with other powerful generators on our list, but 3800 W of constant power on gasoline is more than enough to keep running your home during an emergency. This feature makes it a great house backup. In addition, the generator is equipped with a 3.4-gallon gasoline tank and has a solid runtime of around 9 hours. This Champion generator has a user-friendly electric start button for easy start-up, plus a low-oil shut-off sensor. The oil shut-off sensor will immediately turn off the generator if the oil level is low to prevent damage to the engine. Unlike other generators, its wheels are small and made of rubber, making it easy to wheel this generator over gravel or campsite 68 decibels; it is slightly louder than some other models on the market. However, I will still consider this generator a home backup because it comes within a reasonable range for a generator of this size and power output.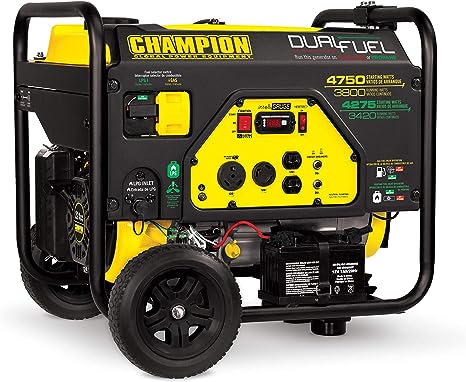 Pros:
Easy to transport
Good runtime
User-friendly interface
Free lifetime technical support
Cons:
Heavy
Need regular maintenance
All Power America 12000-Watt Dual Fuel Generator: Best Commercial
If you prefer to buy a generator with an air-cooled engine, the All Power America portable generator is for you. It is a dual-fuel generator that gives the flexibility to run on gasoline and propane and has a peak power output of 12,000 watts. If you plan to run motor-driven appliances, this power output is enough. Another standout feature is its heavy-duty construction. It has a steel frame with four-point fully isolated motor mounts, which reduces vibration and ensures stable operation. The fuel tank is a decent size at 8 gallons, and the fuel gauge makes it easy to monitor fuel levels. The digital hour meter is also a helpful feature that helps you keep track of maintenance intervals. The six outlets provide plenty of options for powering a variety of devices. The twist-lock outlet and 50A outlet are handy for larger equipment.
Pros:
It has an upkeep-free battery
Heavy duty
Multiple outlets options
Cons:
It is loud
Short run time
DuroMax XP9000iH 9000-Watt dual fuel Generator: Best Clean Operation
This DuroMax portable inverter generator is one of the best power backup solutions you can invest in. The generator was packaged well and arrived with no damage and fully assembled. When I open it was heavy, but rolls around easily like a wheelbarrow with handles. Its digital inverter technology provides clean, stable power that won't damage sensitive appliances. So, it is an excellent choice for powering electronics, devices, and other delicate equipment during a power outage or while camping. The control panel for the generator is intuitive to use and has several outlets for various types of equipment. A digital display shows the generator's fuel level, runtime, and voltage. The generator has a noise level of 72 decibels (dB) at 23 feet. To give you an idea, the generator produces 72 dB sounds as loud as a vacuum cleaner.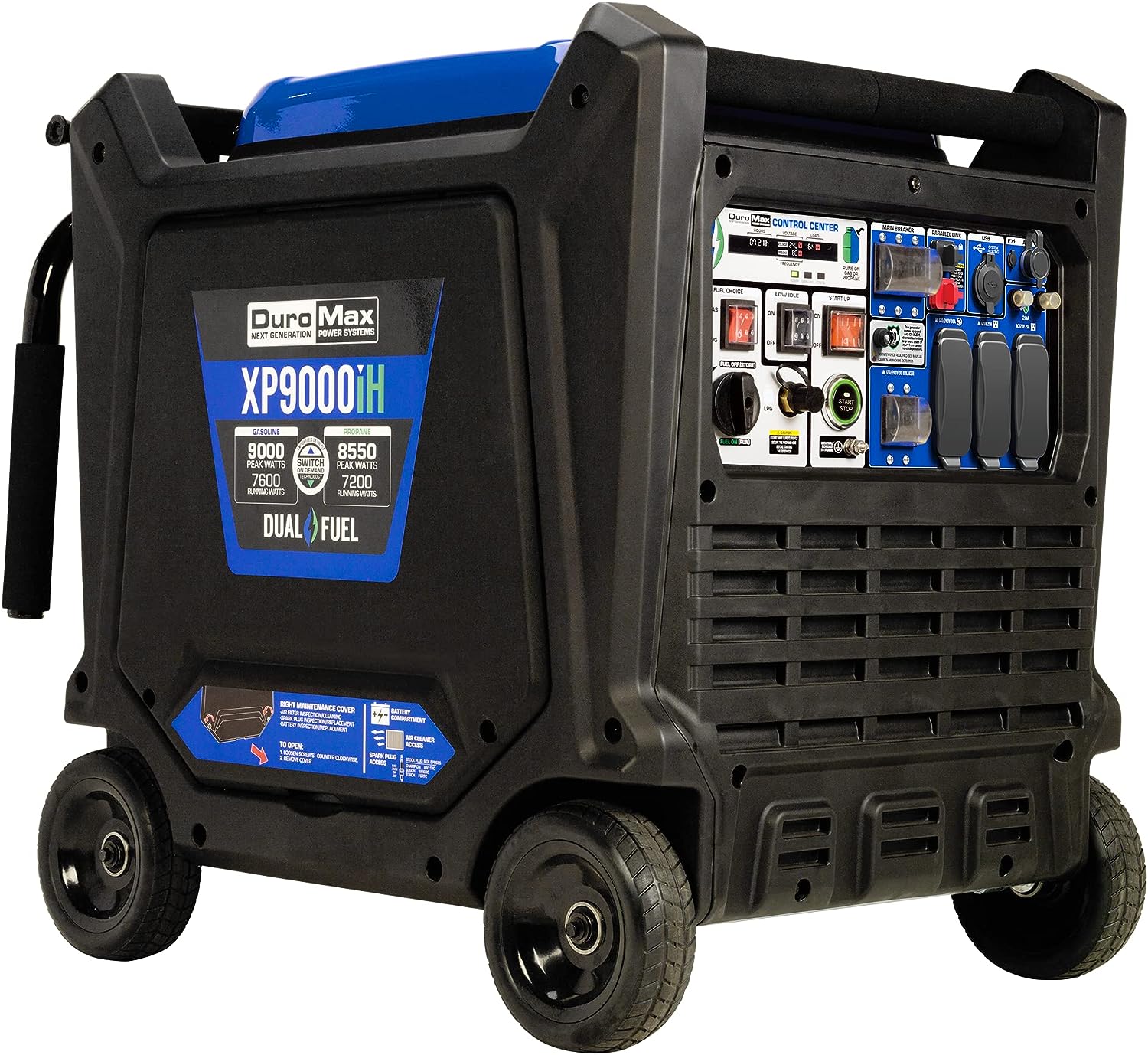 Pros:
Digital Display
Compact and Lightweight Design
Clean & Stable Power Operation
Things to Consider Before Buying a Quiet Dual Fuel Generator
When you buy a quiet dual fuel generator, it's a long-term investment for home backup. There are some factors which you must know before you get a quiet dual fuel generator.
1- Power Output
Dual fuel generators have different power outputs. Most powerful models can produce up to 12,500 watts, while smaller ones generate around 5,000 watts. However, the average US household uses nearly 30,000 watts per day. So, determine the amount of power output you need for your home. Ensure that the generator has enough capacity to handle your needs and peak loads without tripping the circuit breaker.
2- Noise Level
This is an essential factor that you must consider. Although traditional generators are known for their noisy operation and advancements, there have been significant improvements in recent years. While it may not be possible to have a completely silent fossil fuel generator, try to look for a generator with a low noise level. If you plan to use the generator in a residential area, you'll want to ensure it won't disturb your neighbours.
3- Portability
Probability is also vital for emergency equipment. So, consider the weight and size of the generator if you plan to move it around. Choose a more portable option if you use it in multiple locations.
4- Safety Features
Safety features such as automatic shut off in case of low oil level or overloading are essential. This will help protect both you and the generator. So, look for these safety features in your quiet dual-fuel generator.
5- Run Time
It's essential to consider the runtime of a dual fuel generator on a single-fuel tank before making a purchase. The generator's runtime refers to the amount of time it can operate continuously without needing to refuel. So, check the generator's runtime on a single fuel tank. You'll want to ensure it can operate for as long as needed without refuelling.
Final Thoughts:
After thorough research and experience, we have compiled a list of the top quiet dual-fuel generators to buy. These generators have been selected based on their fuel efficiency, noise level, power output, portability, and overall value for money. You may need clarification when purchasing a quiet dual fuel generator because the market has much to offer. So here are our top two recommendations.
Champion 4500-Watt Dual Fuel Generator.
DuroMax XP5500HX Dual Fuel Portable Generator.
Let's get a quiet dual-fuel generator to have an uninterrupted sleep while the generator is running.
Frequently Asked Questions
+
A: The quietest dual fuel generator currently available on the market is the Champion 4500 watts dual fuel generator. It has a noise level of only 53 decibels at a quarter load, quieter than a normal conversation.
+
A: A dual-fuel generator will often be quieter on propane than gasoline. This is because propane burns cleaner than gasoline, producing less noise. Additionally, propane generators operate with smoother and more stable engines, contributing to their quieter operation.
+
A: When you buy a generator for your home, you may want affordable and reliable home backup power. Based on our research and analysis, the best dual fuel generator for your home use is Pulsar G12KBN Dual Fuel Generator.
+
A: Some of the quietest portable generators on the market have a noise level of around 50 decibels (dB) at a distance of 7 meters. For example, the Honda EU2200i is a popular inverter generator known for its quiet operation, with a noise level of just 48-57 dB, depending on the load.